Giggles the Clown – Limerick's Leading Children's Entertainer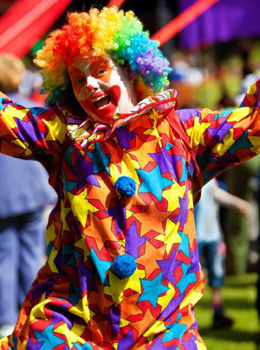 Giggles the Clown is widely recognised as one of Ireland's leading Children's Entertainers. Based in Limerick, Giggles the Clown covers kids parties throughout the mid west of Ireland and beyond.
Learn more about Giggles Special kids party package
---
One & Half Hour Party Plan
Introduction
Giggles will meet all the boys & girls at the party and tell them about the party package.
Colour Time
A Colouring area is set up for the kids to color pictures of Giggles & Friends. And Giggles will explain the kids that some special friends will be arriving later to see their pictures.
Special Guests
Mickey & Minnie (Or the friends of your choice) will come and meet the kids to see the colouring pictures and give out high fives.
Mickey & Minnie (Or the friends of you choose) will have his picture taken with all the kids (People for the suits will need to be supplied at the party)
Face Painting
The kids can become a Princess, Pirate, Tiger, Hello Kitty, Minnie Mouse, Batman, Spiderman Or a butterflies. Every Child has a different request!
Play pass the parcel with Giggles
(All kids Get A Little Treat )
Mini Disco
Giggles The Clown and Friends with the kids will do Mini Disco with action songs such as:
Hokey Pokey
Cha Cha Slide
Superman
YMCA
Agadoo
Birdie song
Magic Time
Giggles will do some magic tricks and the Birthday Child will be The Magician.
Balloon Lesson
Where the kids will get a chance to blow up and make and design their own balloons.
Everyone get balloons Dog, Teddies, Swords, Belts & Hats.
Kids Temp Tattoo's
All kids can choose from a variety of Temp Tattoo's and Giggles will put them all on.
All Kids love love love temp tattoo's.
See You Real Soon!
Giggles Will Say Goodbye to all her new friends and give out some autographs & Stickers. 😉